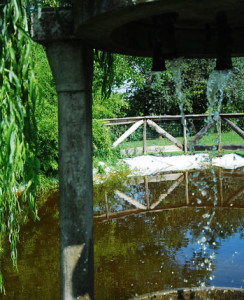 Big Outdoor spaces build the perfect frame to a structure voted to realize your dreams for the most beautiful day!
An extraordinary scenery: an old brick farmhouse completely renovated, which evokes the warmth and flavors of "once upon a time", surrounded by nature.
The balance between the green of the exterior, the warmth of old brick and the aroma not only of flowers and vines, but also the fine old wood, create an atmosphere full of suggestions, which forms the essential backdrop to a wedding to remember.
The cooking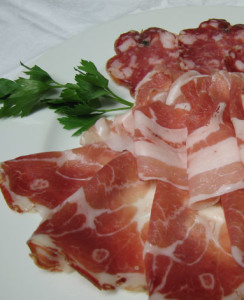 Our menus made with foods, wines and sparkling wines of our production to recall the flavor of a traditional intimate party.
The food, reported on many guides, is based on traditional recipes and authentic flavors of the Oltrepo Pavese territory, reinterpreted with a pinch of innovation and creativity. It is characterized by the use of whole wheat flour, by homemade bread and handmade pasta dishes. The foods offered are made with organic products (to a large share produced on the farm) and are coupled with fine wines and Spumanti (white, red and rosé) from organic agricolture. Some typical first dishes are: The Stâng â l'üs (whole wheat flour dough sticks of three different colors because they contain nettles, carrots and beets with a tomato and vegetable sauce) and Caserecce (homemade white flour pasta) served with smoked goose breast, lettuce and cream sauce). Among the second dishes we find: Roasted pork leg, cut directly in the dining hall, for the pleasure and enjoyment of your guests; marinated beef and the excellent roast beef.
The typical home made cake served is the Büselâ: a traditional whole wheat flour cake with fruits cooked inside of the pastry served warm with a spoonful of custard flavored Tordimonte (one of Torrazzetta's dessert wines) aside. The cake can be presented with a decoration of flowers or fruit, in agreement with your wishes.
The menu, customized for your most important day, can be designed according to your needs by contacting the farmstay directly, where we will be happy to meet you and welcome you, to better understand your needs and desires.
Dining Rooms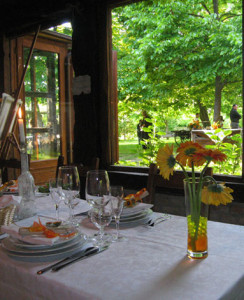 Rustic and refined spaces to accommodate your guests with style in a warm and familiar place.
The diverse range of flexible dining rooms of Torrazzetta will certainly suit your needs and help to organize the day of your dreams.
Be charmed by the bricks, the wooden ceilings, by the view of the exterior gardens and the magic of an environment surrounded in atmospheres almost forgotten. Welcome your guests in a place from another era, equipped with all modern comforts, featuring a forefront cooking and with up to thirty
years of experience in events organization, to prepare for your marriage being guided by professional hands.